Gigabit géré par commutateur Ethernet N-net
Le commutateur géré NT-MG1400 offre des performances de transfert de paquets à vitesse filaire avec une matrice de commutation non bloquante de 12 Gbps, une table d'adresses MAC 8 ko et un contrôle de flux Full-Duplex 802,3x. Ce commutateur Gigabit prend en charge le protocole de gestion de réseau simple standard (SNMP) et peut être surveillé via n'importe quel logiciel de gestion standard. De plus, le micrologiciel inclut des fonctionnalités avancées telles que IGMP Snooping, QoS (Quality of Service), contrôle des tempêtes de diffusion et de bande passante, pour améliorer l'utilisation de la bande passante. Ces fonctionnalités offrent un moyen économique de gérer l'appareil à partir d'Internet. à la maison.
Caractéristiques du commutateur Ethernet géré Gigabit
Conforme aux normes IEEE 802.3 10Base-T, IEEE 802.3u 100Base-TX, IEEE 802.3ab 1000Base-T,
Norme Ethernet IEEE 802.3z 1000Base-SX / LX
La détection Auto-MDI / MDI-X sur chaque port RJ-45 prend en charge le protocole CSMA / CD
Empêche la perte de paquets avec le contrôle de flux de trame de pression arrière (Half-Duplex) et 802.3x PAUSE (Full-Duplex)
Table d'adresses MAC 8K, apprentissage automatique de l'adresse source et vieillissement
Toile de commutation 12Gbps, architecture de commutation non bloquante
Le cadre Jumbo 9K prend en charge à toute vitesse (10/100 / 1000Mbps)
Prend en charge la fonction VLAN basée sur le port et 802.1Q, jusqu'à 64 groupes VLAN
Prend en charge le protocole Rapid-Spanning Tree IEEE 802.1w (RSTP)
Link Aggregation prend en charge le mode statique et LACP (IEEE 802.3ad) - jusqu'à 4 groupes de lignes, chaque ligne est au maximum jusqu'à 6 ports
IGMP Snooping pour le filtrage multidiffusion, prend en charge v1 et v2
Prise en charge de l'option DHCP 60 et de l'option 82
Multicast et Broadcast Storm Control ainsi que le contrôle des inondations
Prise en charge du port miroir pour la surveillance de port dédié
802.1X Contrôle d'accès Port-Base, Authentification du serveur RADIUS
L'adresse MAC statique affecte l'adresse MAC de destination au port spécifié
Interface de gestion Web à distance
Mise à niveau du micrologiciel via l'interface Web
Technologie de diagnostic de câble
Prend en charge SNMPv1 avec le groupe RFC-1213/1573 et le groupe RMON 1 (statistiques) SNMP Tr
Application de commutateur Gigabit Ethernet géré
Avec les interfaces fibre 1gigabit, pour construire une solution réseau FTTH (Fibre to the Home) ou FTTC (Fibre to the Curb) pour les FAI et FTTB (Fibre to the Building) pour les entreprises, les différentes distances du port fibre sont optionnelles pour les clients. Pour la sécurité et les applications, les ports 5 Gigabit peuvent être configurés avec les paramètres VLAN et se connecter à différentes unités, bureaux, bâtiments, maisons et départements. Et NT-MG1500 est une large application sur le marché européen FTTH.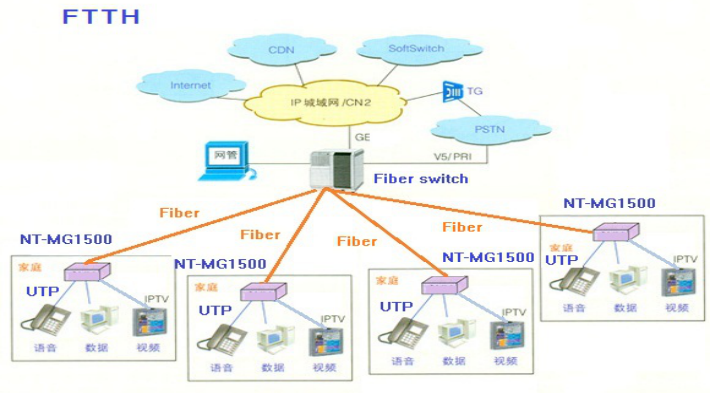 Il est similaire à NT-MG1400
Paquet de commutateur de réseau de 4 ports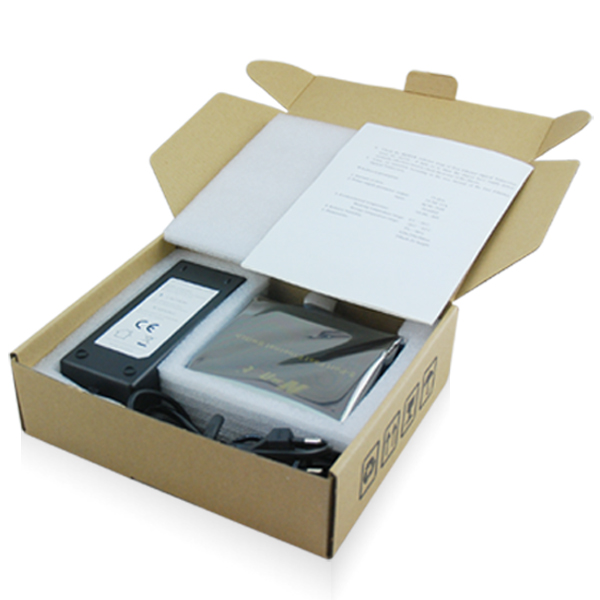 Groupes de Produits : Commutateur Ethernet > Commutateur Gigabit Ethernet