Vue d'ensemble
La NT-MG1500 offre des performances de transfert de paquets à une vitesse filaire avec une matrice de commutation non bloquante de 12 Gbps, une table d'adresses MAC de 8 000 kHz et un contrôle de flux en duplex intégral 802.3x.
La NT-MG1500 peut être programmée pour les fonctions de base de la gestion des commutateurs, telles que les paramètres de duplex par vitesse de port, l'agrégation de ports, le VLAN, la mise en miroir de ports, la rotation rapide, etc. Le micrologiciel inclut également des fonctionnalités avancées telles que la surveillance IGMP ), tempête de diffusion et contrôle de la bande passante, pour améliorer l'utilisation de la bande passante.
Le NT-MG1500 prend en charge le protocole SNMP (Simple Network Management Protocol) standard et peut être surveillé via n'importe quel logiciel de gestion standard. Ces fonctionnalités constituent un moyen économique de gérer le périphérique à partir d'Internet, que vous soyez au travail ou à la maison.
Caractéristique clé
Conforme aux normes IEEE 802.3 10Base-T, IEEE 802.3u 100Base-TX, IEEE 802.3ab 1000Base-T,
Norme Ethernet IEEE 802.3z 1000Base-SX / LX
Ports Ethernet Gigabit 5/10/100 / 1000Mbps à 5 ports avec port fibre à 1 port
La détection automatique MDI / MDI-X sur chaque port RJ-45 prend en charge le protocole CSMA / CD
Empêche la perte de paquets avec la contre-pression (Half-Duplex) et le contrôle de flux de trames PAUSE 802.3x (Full-Duplex)
Tableau d'adresses MAC 8K, apprentissage et vieillissement automatiques des adresses sources
Matrice de commutateur 12 Gbps, architecture de commutateur non bloquante
9K Jumbo Frame prend en charge à toutes les vitesses (10/100 / 1000Mbps)
Prend en charge la fonction VLAN 802.1Q et basée sur le port, jusqu'à 64 groupes de VLAN
Prend en charge le protocole RSTP (Rapid Spanning Tree) IEEE 802.1w
L'agrégation de liens prend en charge le mode statique et le protocole LACP (IEEE 802.3ad) - jusqu'à 4 groupes de lignes, chaque ligne correspond au maximum à 6 ports.
IGMP Snooping pour le filtrage multidiffusion, prend en charge v1 et v2
Prise en charge des options DHCP 60 et 82
Multicast et Broadcast Storm Control ainsi que le contrôle des inondations
Prise en charge de la mise en miroir des ports pour la surveillance des ports dédiés
Contrôle d'accès base-port 802.1X, authentification du serveur RADIUS
Adresse MAC statique attribue une adresse MAC de destination à un port spécifique
Interface de gestion Web à distance
Mise à niveau du micrologiciel via l'interface Web
Technologie de diagnostic de câble
Prend en charge SNMPv1 avec le groupe d'interfaces RFC-1213/1573 et l'interruption SNMP du groupe 1 de RMON (statistiques)
spécification
Parameter

Specifications

Access mode

10/100/1000Mbps Gigabit Ethernet

Standards

IEEE 802.3 10BASE-T

IEEE 802.3u 100BASE-TX

IEEE 802.3ab Gigabit 1000Base-T

IEEE 802.3z Gigabit 1000Base-SX/LX

IEEE 802.3x Flow Control

IEEE 802.3ad Port trunk with LACP

IEEE 802.1d Spanning tree protocol

IEEE 802.1w Rapid spanning tree protocol

IEEE 802.1p Class of service

IEEE 802.1Q VLAN Tagging

IEEE 802.1x Port Authentication Network Control

Copper Ports

5-port 10/ 100/1000Base-T RJ-45 Auto-MDI/MDI-X ports

Wavelength

850nm/1310nm/1550nm

Transmission distance

Multi-mode Dual-fiber: 220m (62.5/125μm)/550m (50/125μm)

Single mode Dual-fiber: 20/40/60/80/100km(9/125μm)

Single mode single-fiber: 20/40/60km(9/125μm)

Category-5 twisted pairs: 100m

Port

Five RJ45 port:

Connecting with STP/UTP category-5/5e twisted pairs, EIA568A/B

One optical port:

Multi-mode Dual-fiber: SC/LC(SFP) (50, 62.5/125μm)

Single mode Dual-fiber: SC/FC/LC(SFP) (9/125μm)

Single mode Single-fiber: SC/FC (9/125μm)

Switch Fabric

12Gbps / non-blocking

Switch Throughput

8.9Mpps

Address Table

8K MAC address table with Auto learning function

Share Data Buffer

136K bytes on chip

Flow Control

Back pressure for Half-Duplex

IEEE 802.3x Pause Frame for Full-Duplex

Jumbo Frame

Max to 9K Bytes
Management Interface

Web Browser, SNMPv1, v2c monitor and SNMP Trap

VLAN

Port-Based / 802.1Q Tagged Based VLAN,

Up to 64 VLAN groups

Link Aggregation

Supports 4 groups of 8-Port trunk,

IEEE 802.3ad LACP

QoS

Traffic classification based on 802.1p priority,

DSCP field in IP Packet

IGMP Snooping

IGMP (v1/v2) Snooping, up to 64 multicast groups

SNMP MIBs

RFC-1213 MIB-2

RFC-1573-Interface MIB

RFC-2819 RMON MIB(Group 1)

LED

Power, 1000 Link/Act, 100/10 Link/Act per port

Power Requirement

100 - 240VAC 50~60Hz, 40~57VDC

Power Consumption

6 watts

Temperature

0~50 ℃

Humidity Operating

5~95%(non-condensing)

Dimensions

217mm x 135mm x 43.5mm (W x D x H)

Weight

0.5kg

Commutateur Gigabit Web Smart à 6 ports avec 1 port fibre
Série NT-MG1500
Applications
Commutateur FTTx
Avec des interfaces fibre 1gigabit pour construire une solution réseau FTTH (Fiber to the Home) ou FTTC (Fibre to the Curb) pour les FAI et FTTB (Fiber to the Building) pour les entreprises, les différentes distances du port fibre optique sont optionnelles pour les clients. Pour la sécurité et les applications, les ports 5 Gigabit peuvent être configurés avec les paramètres VLAN et se connecter à différentes unités, bureaux, bâtiments, maisons et départements. Et NT-MG1500 est une application large sur le marché FTTH en Europe.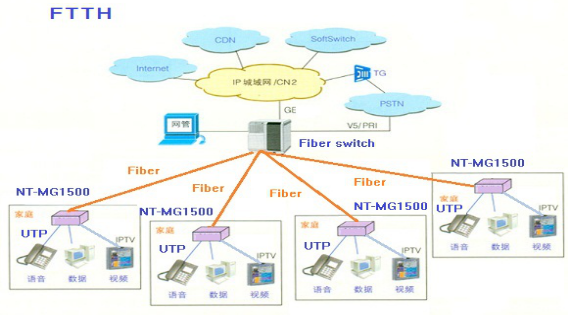 Informations de commande
NT-MG1500 Commutateur Ethernet Gigabit Web Smart à 6 ports 10/100 / 1000Mbps
Groupes de Produits : Convertisseur de médias industriels > Convertisseur de média industriel Gigabit